In the UK there are thousands of avoidable chimney fires every year, using a professional chimney sweep can help avoid becoming a fire statistic. There were 3,105 reported chimney fires in England from April 2020 to March 2021.
Regardless of what type of chimney you have, or even if it's lined, it will still need regular sweeping. This guide walks you through the benefits of using a professional chimney sweep.
How often should it be swept?
HETAS encourages having your chimney swept at least twice a year when burning wood or bituminous house coal and at least once a year when burning smokeless fuels. It can also depend upon how much the appliance is used.
The best time to have your chimney swept is just before the heating season or after your stove has not been used for a prolonged period. If sweeping twice a year, the second time should be after the peak of the heating season.
Sweeping Techniques
Modern chimney sweeps will have a range of tools at their disposal to ensure they have the right one for your job. There are two main recognised techniques for sweeping, the traditional method and power sweeping. It is important to note that some power sweeping equipment attachments provide a more vigorous cleaning process that may cause damage to certain types of chimney lining systems and should be best left to someone with appropriate knowledge in their use. Consult with your HETAS approved chimney sweep for more information on suitable sweeping equipment for different types of lining systems.
Equipment
Your chimney sweep will have a van full of the latest equipment to get the job done, saving you the time and mess involved. So what sort of things would you find in a chimney sweep's armoury?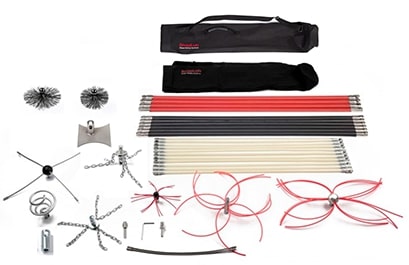 A range of rods and brushes/heads/whips – traditional and power
Bird nest removal tools
An industrial vacuum (HEPA rated) – not your usual Henry the Hoover
Personal Protective Equipment (PPE)
Respiratory Protective Equipment (RPE)
Chimney Inspection Camera
Dust sheets – for the floor and around the fireplace
Foam blocks
Creosote and tar removal kit
Flue draught kit
Smoke pellets
An array of tools
Good sweeps will have a range of repair and maintenance tools, such as heat rated sealant, rope seals, right through to chimney cowls, and CO alarms, to maintain the continued safety of the installation.
Some might even have a traditional top hat hidden away in the van, you might be lucky!
All this equipment will ensure that your chimney sweep does a thorough and clean job, there won't be any mess for you to worry about. Some sweeps will take the waste away for you, others will double bag, seal, and mark as soot to go in your domestic waste bin. Chimney sweeps who choose to take the soot away will need to be on the 'Register of waste carriers, brokers and dealers', meaning they are registered to transport and dispose of waste under Environment Agency requirements. Removal of waste may require additional payment, discuss this directly with your chimney sweep.
There are a number of uses for stove ash, take a look at our top tips for safely disposing of your stove ash.
Where to sweep from?
Chimneys are usually swept from the fireplace, so there is usually no need for access to the roof. Your sweep will be able to advise if they need to sweep through your appliance or via an access hatch. 
It goes without saying, but let the fire go out completely the day before the scheduled time of cleaning and avoid using the fire/stove for several hours prior to sweeping. Clearing the ash pan and space around the stove prior to the sweep visiting will also make their job easier on the day.
Insurance
Professional chimney sweeps will also hold insurance to cover the range of work they undertake.
Additional signs you need to book a sweep urgently
Apart from regular planned servicing and sweeping, there are some telltale signs that you need to stop using the appliance and make an urgent date with your local chimney sweep. These can include, but are not limited to:
Smoke is coming back into the room when the appliance is in use
There is a bad smell even when you haven't lit a fire
You can see signs of tar around the damper or flue entrance
Soot is falling back into your stove
Your fire isn't burning as well as usual
You can see birds around the top of your chimney or hear scratching – there may be a nest
If you have any concerns about your appliance or chimney, please do not use them until they have been checked by a professional. When was the last time you had your chimney swept? Leave it to the professionals. Book your local HETAS Approved Chimney Sweep here.
Your HETAS Approved Chimney Sweep will be happy to show you their ID card on arrival, it will look something like this….