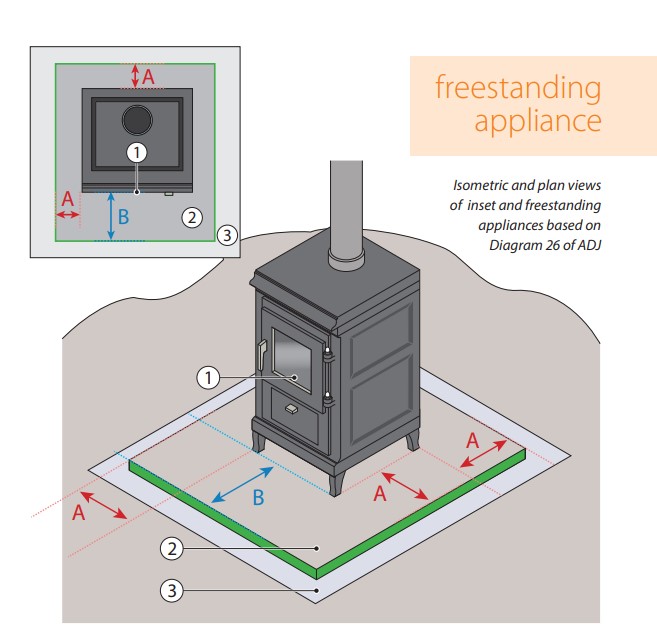 Hearth Guidance
Back to posts
In the latest HETAS Technical Bulletin which we sent out last month Brian Bailey, Senior Product Evaluation Officer at HETAS expands on his recent hearth article providing clarification on brining a hearth up to specification.
In a previous hearth article (HETAS Technical Bulletin #11, June 2018) a number of queries were raised which we hope to address here with additional guidance notes.
Guidance
The guidance given in Approved Document J (ADJ) for using only a single sheet hearth seems to exclude their use if the appliance is situated in an appliance recess (ref: ADJ paragraph 2.23). Unfortunately, as explained  in my previous article, there may be circumstances whereupon the constructional hearth of an appliance recess has been "modified".
Be wary when bringing fireplaces back into use when they they have been redundant for some time. If the construction of the fireplace recess and hearth has been modified in any way then it may require correction to enable it to be used as a fireplace once again. In particular the hearth base may have been structurally changed or may have been incorporated with a damp proof membrane that will degrade or even disintegrate or flame off if the fireplace is used again particularly if used for an open fireplace.
ADJ Guidance
In such circumstances it may not be ideal or desirable to bring the hearth back up to specification. ADJ does offer some guidance which offers a "work-around" via paragraph 2.27 in that any hearth can be adjusted to suit the particular appliance. Based on the assumption it would be acceptable to use a non-combustible sheet hearth within a fireplace recess (where the constructional hearth is of inadequate dimensions or materials) provided:
The appliance can be situated on a single sheet hearth (see ADJ paragraph 2.23 (a)) and the appliance manufacturer is able to provide written confirmation that it can be installed in this situation (i.e in a recess).
The single sheet hearth complies with ADJ Note 2.23 (a)
The dimensions of the sheet used will provide at least a hearth that satisfies the minimum hearth perimeter dimensions detailed in ADJ Diagram 26 (a) or alternatively the appliance manufacturer's specified dimensions where the appliance can satisfy the caveats given in ADJ paragraph 2.27.
Measurements given in ADJ Diagram 26 (a) Fireplace Recess are shown below.